Ray Kass
About Ray Kass1
Ray Kass is an internationally recognized artist whose work is represented by Garvey/Simon: ART ACCESS in NYC and the Reynolds Gallery in Richmond, Virginia.
His paintings have been widely exhibited and have been represented in solo exhibitions in New York City by the Allan Stone Gallery, A.V.C. Contemporary Arts Gallery, ZONE: Chelsea Center for the Arts, Baumgartner Gallery, and ir77 Contemporary Art. He has received numerous grants and awards, including individual artists grants from the Virginia Museum of Fine Arts and the National Endowment for the Arts. His paintings reside in many public and private collections.
Ray Kass is Professor Emeritus of Art at Virginia Tech, and founder and director of The Mountain Lake Workshop; an ongoing series of collaborative and inter-related workshops centered in the environmental, cultural, and community resources of the Appalachian region of southwestern Virginia. The workshops have resulted in many unique, collaborative works of art that have been widely exhibited. Artists who have completed several workshops at Mountain Lake (or are currently engaged in ongoing projects) include folk-artist Howard Finster, Japanese artist & sculptor Jiro Okura, the late avant-garde composer, writer composer and artist John Cage, waste management installation-artist Mierle Laderman Ukeles (official artist in residence of the New York Sanitation Dept.), ceramic artist, poet and author M.C. Richards (author of Centering), Colorado-based "EcoArtist", Lynne Hull, NYC East Harlem "street- artist", James De La Vega, Zen art scholar and artist, Stephen Addiss, and Paris-based sculptor and virtual-reality "light" artist, Jackie Matisse, as well as Ray Kass himself, among many others.
His publications include numerous reviews, articles and catalogs, including: Sounds of The Inner Eye: John Cage, Mark Tobey and Morris Graves, Univ. of Washington Press, Seattle and London (2002) – (also in German: Klange des Inneren Auges, Kunsthalle Bremen/Beyeler Foundation, Munich, 2002), Morris Graves: Vision of the Inner-Eye, Braziller, NY (1983) and John Cage: New River Watercolors, Virginia Museum of Fine Art, Richmond, VA, and a major critical essay in Writings Through John Cage's Music, Poetry and Art, University of Chicago, 1999.
In 2012 he had two extended residencies at MQ in Vienna, Austria.
He is the son of celebrated American Folk Artist Jacob Kass (1910-2000).
Description of Ray Kass Collections
Silk/Mulberry Paper Collages & "Wave" Paintings
(2000 – 2012)
"Kass' silk and water collages utilize flowing silk on layered mulberry papers as if it were a wash of watercolor. The diaphanous silk mimics the light-filtering ephemeral qualities of water. They share in the spirit of the collages made from found materials by Irwin Kremen. These elegant scraps of weathered and water stained papers were painstakingly collected as found objects and then assembled into intense collages with an intimate yet ambiguously vast scale, creating a dynamic that fills the room."
Polyptych Paintings
(1961-2003)
"Moving water has always been the inspiration in my painting, Virginia's rivers in particular. My work outdoors always begins with loose but literal drawings of the place – but then evolves into abstract imagery and extraordinary formats in my paintings. My goal is to represent the character of "nature" in its manner of operation – not in its literal pictorial appearance." – Ray Kass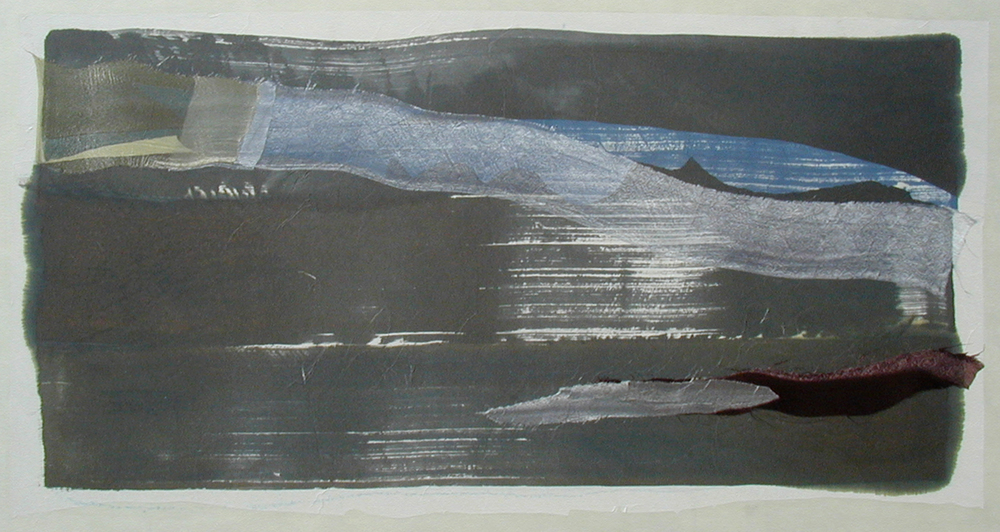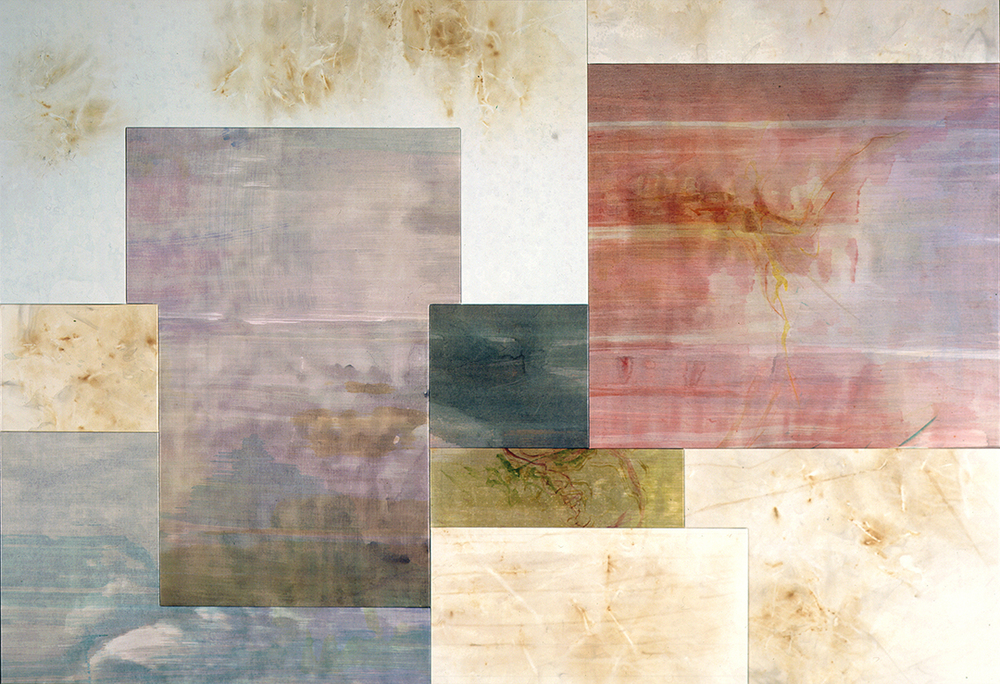 1
2
3
4
5
6
7
8
9
10
11
12
13
14
15
16